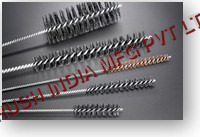 Twisted Wire Brushes
Price And Quantity
Piece/Pieces

500-5000 INR
Product Description
We are affianced in offering our clients an optimum quality assortment of Twisted Wire Brushes. Manufactured in adherence with the defined ISO standards using the utmost grade synthetic fibers and latest techniques, this range of wire brushes is demanded for cleaning wire mazes. Further, these Twisted Wire Brushes are available in different shapes, sizes, colors and can also be custom made according to the specific needs of clients at affordable prices.
Features of Twisted Wire Brushes:
High durability
Heat resistance

Soft bristles
SINGLE SPIRAL:
Any kind of fill bristles can be twisted between two stem wires

SINGLE SPIRAL - DOUBLE STEM:
Any kind of fill bristles can be twisted between four stem wires

DOUBLE SPIRAL DOUBLE STEM:
Two layers of any kind of fill bristles can be twisted between four stem wires


Standard Bristle Materials:


Carbon Steel
Non-Ferrous
Stainless Steel
Synthetic Fibers
Animal Fibers
Vegetable Fibers

Non-Ferrous Wire
Aluminum,copper, phosphor bronze brass, nickel, silver.
Brass Wire
Rust-proof and spark resistant, brass provides gentle brushing action.
Phosphor Bronze Wire
Similar to brass with better shape retention.

Carbon Steel Wire
Typically used in applications where abrasion is required in dry environments. High carbon is utilized for deep cutting where aggressive abrasion is required.
Stainless Steel Wire
Rust-proof and strong and ideal for applications that involve stainless steel or aluminum. Will not leave ferrous deposits.
Oil Tempered Wire (Flat Wire)
Flat wire is the most aggressive brushing material available.

Crimped or Straight?
A crimped, or wavy, bristle extends the life of the brush and is ideal for abrasive cleaning.
Straight bristles are softer and more flexible.
Product Dimensions:

Actual Brush Dia.

BP

OAL

ALL 302 Stainless

Stainless Fill

Hi-Temp.
Carbon St.

Wire Size

6-12 Nylon

Nylon Size

Brass Fill

Wire Size

1/2"

4"

7"

90-SS500

90-S500

90-C500

.008

90-N500

.017

90-B500

.008

5/8"

4"

7"

90-SS625

90-S625

90-C625

.01

90-N625

.017

90-B625

.010

3/4"

4"

7"

90-SS750

90-S750

90-C750

.01

90-N750

.017

90-B750

.010

7/8"

4"

7"

90-SS875

90-S875

90-C875

.01

90-N875

.017

90-B875

.010

1"

4 1/2"

7 1/2"

90-SS1000

90-S1000

90-C1000

.012

90-N1000

.022

90-B1000

.012

1 1/4"

4 1/2"

7 1/2"

90-SS1250

90-S1250

90-C1250

.012

90-N1250

.022

90-B1250

.012

1 1/2"

4 1/2"

7 1/2"

90-SS1500

90-S1500

90-C1500

.012

90-N1500

.028

90-B1500

.012

1 3/4"

4 1/2"

7 1/2"

90-SS1750

90-S1750

90-C1750

.012

90-N1750

.028

90-B1750

.012

2"

4 1/2"

7 1/2"

90-SS2000

90-S2000

90-C2000

.012

90-N2000

.028

90-B2000

.012

2 1/4"

4 1/2"

7 1/2"

90-SS2250

90-S2250

90-C2250

.012

90-N2250

.032

90-B2250

.012

2 1/2"

4 1/2"

7 1/2

90-SS2500

90-S2500

90-C2500

.012

90-N2500

.032

90-B2500

.012

2 3/4"

4 1/2"

7 1/2"

90-SS2750

90-S2750

90-C2750

.012

90-N2750

.032

90-B2750

.012

3"

4 1/2"

7 1/2"

90-SS3000

90-S3000

90-C3000

.014

90-N3000

.032

90-B3000

.012

3 1/2"

4 1/2"

7 1/2"

90-SS3500

90-S3500

90-C3500

.014

90-N3500

.045

90-B3500

.018

4"

5"

8"

90-SS4000

90-S4000

90-C4000

.016

90-N4000

.045

90-B4000

.018
Trade Information
Yes

Free samples are available
All India

ISO 9001 : 2008